Status: (As on 13 Mar 14)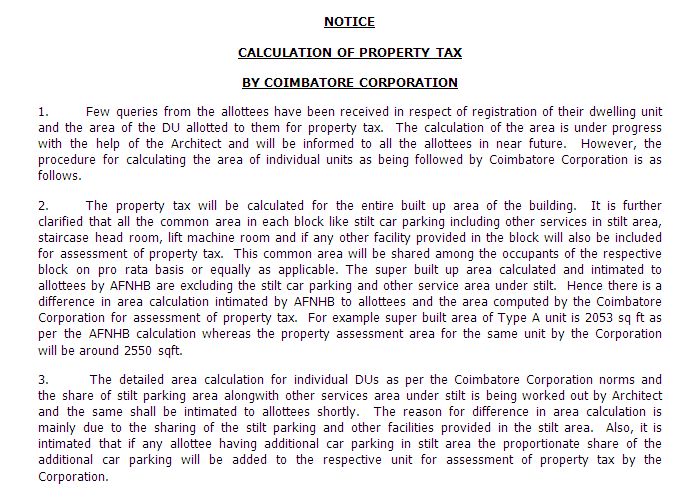 The Handing/Taking over schedule schedule of Dwelling Units of Ccoimbatore Project. (26 Feb 14). read more...
Latest Handing over schedule (12 Feb 14). read more...
Issuance of Possession letter update on 10 Dec 13. read more...
The Board is pleased to inform all allottees that the electrical system has been energized and inaugurated by DG, AFNHB and Superintendent Engineer on 29 Nov 13. TANGEDCO electricity is now available at project. Further, allottees may contact Project Director Wg Cdr MJ Bobby (Mob: 09659686868) for more information. The latest photographs in this regard are uploaded in photo section under

Energisation

head :
Clarification on Handing Over (15 Nov 13).


1. The issue of Electrical connection and VLT have been interlinked by the organization. The Board had been approached by the Society to commence handing over without waiting for Electricity. However, at AFNHB, it was felt that a more considered & participative decision needs to be taken on this matter. Therefore, the complete case had been put on website to take a feedback. In the case of VLT, a large sum of money is involved, and refunds from Govt. is difficult once paid. Therefore, the Board & Society had been reluctant to pay up the VLT without making necessary efforts to have it waived off.
2. It is expected that this clarification would satisfy the allottees regarding the purpose of feedback sought.
3. If required, the Board will defer the date of handing/taking over and commence handing over after the electricity connection is obtained.
Clarification on Final Call date of 15 Nov 13. read more...
Issue of Possession letter and Handing over of flats (8 Nov 13). read more ...
Project : Inagurated on 18 Sep 13 by His Excellency Dr. K Rosaiah, the Hon'ble Governor of Tamil Nadu.
6 Nos of Transformers are successfully installed at site (30 Jul 13).
Option for car parking space/additional area and volunteer for Society (For Officers Category). more ...
Option for car parking space/additional area and volunteer for Society (For Airmen/Sailor Category). more ...
Project Director Wg Cdr M J Bobby's mobile no. 09659686868.